LEADING IN DECOMMISSIONING
As early as 2001, Oranje started the 'Sustainable Decommissioning' project, as a solution for the waste of raw materials that are released during demolition. The project showed that materials can be reused as high-quality secondary raw materials for new products and buildings.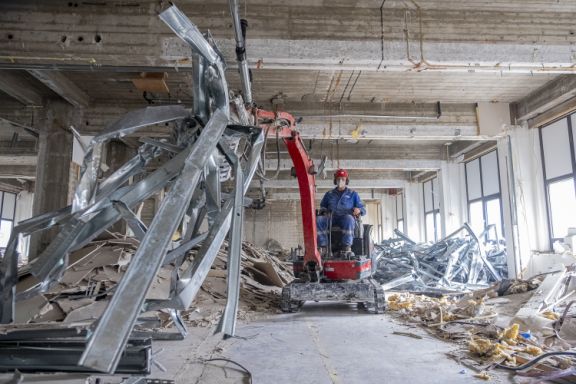 CIRCULAR
Oranje puts decommissioning on the map as part of circular construction. Decommissioning can be done both directly and indirectly. In the first case, released materials are returned to the construction chain without further processing. This applies, for example, to plastic frames, wooden floor beams, doors and sockets, or even complete kitchens. Oranje offers this directly, including through MSO Circular.
In the case of indirect decommissioning, we process the released materials (such as concrete, sand-lime brick, bitumen) into high-quality secondary raw materials for new building materials. This includes concrete, wood, sand-lime brick and roof bitumen, which we include in our Raw Materials Bank. Disassembled materials such as cable ducts and frames are also offered via MSO Circular.
DECOMMISSIONING PAYS
Decommissioning of homes, offices and industrial buildings prevents the depletion of scarce raw materials. CO2 emissions also drop significantly, because less transport is required. That reduction can be as high as 40 percent.